Chipz Da General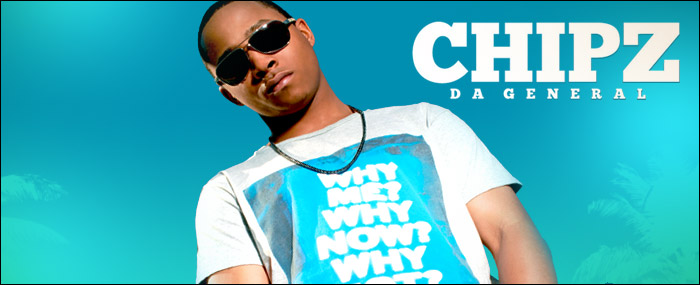 From the beginning, Bronx, New York has birthed some of music's greatest talents. Over three decades since its creation, Hip Hop has set forth some of music's biggest stars. To hail from a cultural mecca with such a rich artistic history is nothing less than an honor to a truly creative soul. Enter Chipz Da General, soon to be a name known by Hip Hop fans as a purveyor of his hometown's powerful legacy.
Chipz is currently in the studio finishing his debut album titled No Days Off: Business as Usual in association with Los Angeles-based production company Jas Group Entertainment. The full-length album is slated for release this Fall, and follows his recent DJ Kay Slay-hosted mixtape Better Than a Gift. The mixtape garnered the video "Money All on the Table", which received over 3.2 million hits the first day online, a defining moment for the young rapper.
Additionally Chipz is working on two movie scripts, and has plans to tour in the Fall. As a compliment to his career, Chipz has endorsed fashion brands including Coogi, Crown Holder and Fashion Hurtz, with more opportunities in the works. He has also modeled for brands including Nike and Modells, and appeared in the 2008 Yankees All-Star ad.
Born Shakir Seagers, Chipz earned respect at everything from polished performance showcases to lyrical street battles. The Bronx native was drawn to music after he lost his mother at the tender age of 5, followed by his Grandfather shortly after. Songwriting became an outlet for all his pain and heartache, and soon family and friends were encouraging Chipz to pursue rap full time.
He began to see the end of what seemed to be an inevitable struggle, only to find out his best friend had been killed at age 15. With what seemed like a strain of bad luck, Chipz lost faith and ran to the streets, and in turn, came run-ins with the law. He soon realized that a life of crime wasn't for him, and instead took to using his trials and tribulations as poetic therapy, Chipz' real life experiences continue to inspire the rhymes he writes today.
By 2006, Chipz had the attention of labels in New York. He set off for an indie tour in honor of his debut mixtape Salute The General 1, which was hosted by Remy Ma's official DJ, Bedtyme357.
Chipz went on to release the street album Recession Proof via Macktown / Sony BMG, with features from Jadakiss, Rell, Tre Williams, John Mayer and more. He moved over 10,000 units in the streets, however business complications held him back from releasing an official retail album at that time. In 2009, Chipz parted ways with Macktown and launched his own Money Under Pressure Records imprint. He opened shows for the likes of Trey Songz, Fabolous, The Lox, Bobby V, Pleasure P, Jim Jones and Ron Browz.
Chipz started 2010 off with two mixtapes, Braggin Rights, which featured platinum R&B artist Lloyd, and Salute The General 2, which featured platinum R&B artist Yummy Bingham. He then teamed back up with DJ Bedtyme357 for Follow My Lead.
As he readies No Days Off: Business as Usual, Chipz is confident that people will gravitate to his updated sound and style.
"I will consider this album my Reasonable Doubt," Chipz asserts. "I have dropped eight projects, but this is my first opportunity to create my lane. I recorded over 40 records, but had to narrow it down to 14. Of those, I feel that 'Shouldn't Be About the Money', 'The Bronx'and 'Luxury' are my personal favorites. The first is about how I got to where I am. People are often caught up in the money instead of the grind, when it should really be the other way around.
"The Bronx' record turned into anthem for my borough, and 'Luxury' is dedicated to everyone that didn't believe I could escape the 'hood. I'm a family-oriented type of dude, and I will not forget anybody that ever helped me. There are not too many to thank."
Given the brevity of the average rap career, Chipz knows that his work ethic must continue on both professionally and creatively. No Days Off will undoubtedly offer listeners the insight of a future superstar.
"No matter what happens, if you work hard every day you can get over any mountain and achieve anything you ever wanted," explains Chipz. "No Days Off is a way of life. In the end I want people to feel happy when they hear my music. I am finally stepping into my comfort zone of this wary industry. I'm a young entrepreneur, and I am confident about my direction now. I am on top of my business, and I will never give up on the journey I started."
For interviews and press information, contact dove@tygereye.net