Lil Wyte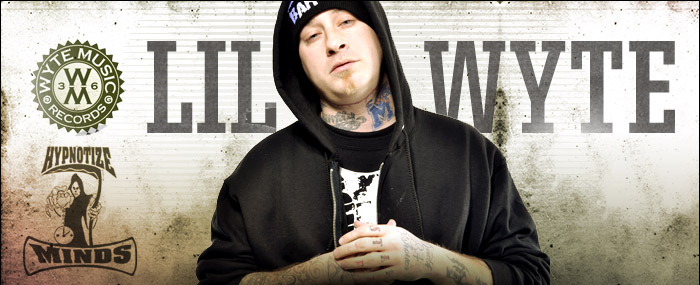 As Lil Wyte (born Patrick Lanshaw) approaches the recording of his fifth solo studio album Still Doubted?, it's safe to say that he aims to answer any lingering questions surrounding his accomplishments, his abilities, and the rest of the musical legacy he has in store. The project was released on June 19, 2012 via Wyte Music, Hypnotize Minds and Select-O-Hits.
"I'm going into the album like I've never recorded before, like this is my first album," he explains. "There are so many people getting deals for 1 hit wonders, but I'm seasoned. So I'm going to bring it."
The 17-track Still Doubted? project and two bonus songs features appearances from some of Wyte's most intriguing Hip Hop peers, such as Pastor Troy, Project Pat, $hamrock, Bubba Sparxxx, Frayser Boy and Young Buck. Producers on Still Doubted include Lex Luger and Wyte Music's in-house beat specialist Big BOI Beats.
Known across the nation as Hypnotize Minds riot-starter and a living Southern rap legend, the Memphis, TN native from the north side has made a career out of jaw-dropping lyrical turns of phrase, unlimited aggressive energy, and controversial subject matter. And that first album he was talking about? Well, that would be the now-classic debut Doubt Me Now released in 2003 on Hypnotize Minds featuring the ubiquitous pharmaceutical anthem "Oxy Cotton".
To hear Wyte describe the LP's initial impact on the city of Memphis, it was nothing short of surreal. "Getting signed to DJ Paul and Juicy J was like being a first round draft pick. I was infatuated with the music and these guys were from my city," he explains. "When [Doubt Me Now] dropped, every red light, someone was bumpin' it. No one even knew what I looked like; people didn't even know I was white. It was one of the best weeks of my life and it was like a slap in the face to everyone."
Lil Wyte's level of anonymity significantly decreased over the year thanks to Doubt Me Now and the subsequent successful projects that followed including 2004's Phinally Phamous, 2007's The One And Only, and 2009's The Bad Influence. A memorable number of episodes on Three 6 Mafia's MTV series Adventures In Hollyhood also gave Lil Wyte's fanbase a glimpse of the star's charismatic and fun-loving personality.
Work with Three 6 Mafia, Project Pat, Frayser Boy and other superstars including Juvenile, Lil Scrappy, Lil Jon, Lil Flip, DJ Kay Slay, Chingo Bling, I-20 and even Miley Cyrus's rockstar brother Trace Cyrus has continued to keep Wyte's name in demand across the country for booking shows and features.
More recently, his focus on the development of Wyte Music Records with co-CEO Rashard Partee has yielded a loyal following and impressive results. Initially formed as a platform to advance the careers of longtime signees Thug Therapy, Wyte also inked Antioch, TN freestyle phenom Jelly Roll upon his release from jail.
A buzz-worthy Jelly and Lil Wyte collaboration "Pop Another Pill" became a viral sensation with the Partee-directed accompanying video. This track caught the attention of Juicy J and led to the formation of Caucasian supergroup SNO as a joint venture on Wyte Music/Hypnotize Minds/D Brady Investments.
Lil Wyte later linked up with Atlanta, GA rapper $hamrock to record and another venture was soon established. March 15, 2011 marked the first release on the Wyte Music imprint as Wyte and Partee executive produced $hamrock's Tha WyteRapper $how, the debut album from the ATL lyricist and Vh1 White Rapper Show winner.
Although Wyte initially held some skepticism and resentment toward the massively-popular reality TV series, he recognized the program's breakout star: "I felt like I should have been a judge on the show, I didn't like the show at first. I thought it was a mockery of what being a white rapper is. But when I saw $hamrock, I like the way he carried himself. I realized early that he was the most talented artist."
After launching $hamrock's project, fans would not have to wait long for the next Wyte Music release. The aforementioned SNO LP Year-Round hit stores on April 19, 2011 and was immediately received with a resoundingly positive reception, even landing on the iTunes Hip-Hop charts at #17 for the day. A strong viral campaign on WorldStarHipHop.com with numerous visuals has raised the album's profile beyond underground hero status. Many listeners even noted Lil Wyte's return to raucous, rowdy form punctuated by an even higher level of "don't give a f***" attitude.
For Lil Wyte, he's now in the perfect position to cement his musical mark for the rest of his career. "I want to be the guy who did whatever he wanted, he didn't care, didn't give a f**k. People will understand my music was the gateway to doing everything I was supposed to do."
For interviews and press information, contact dove@tygereye.net