ME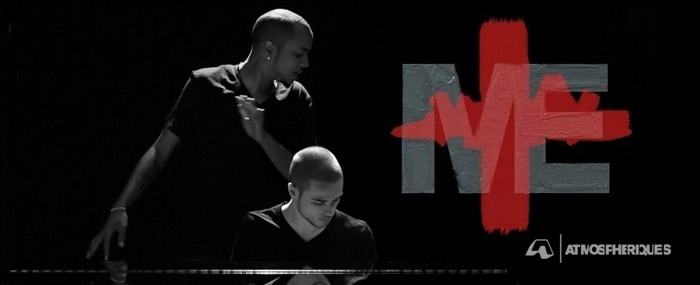 E-Leven and Continental T, collectively known as ME, didn't grow up together or in the same neighborhood. Amazingly enough, they met from across the sea – one being from Lyon, France; the other Houston, Texas. They met randomly via the internet, and now bring us the fruit of their collaboration; which despite the geographical distance, is an inventive combination of their individual stories. They bring to you a cool and sleek take on Hip Hop, which came about down the phone lines across the Atlantic.
ME released their mixtape This Is ME in November 2011, which will be followed by a full-length album in Spring 2012, both via the France-based Atmosphériques label. Their story is quite compelling, as E-Leven was discovered by world-renowned tastemaker Ryan Leslie, and the rest is history! Read on…
In my room
It was only a question of time for E-Leven, growing up amidst his father's record collection and attending shows from a very young age, the Lyon-born young man was destined to live a musical life. With his albums of Stevie Wonder, Supertramp and Kanye West as sole teachers, he started to play the piano, then went on to bass, guitar and then drums.
With the only wish to become a producer, he began recording himself on the hard drive of his Neko workstation. Meticulous and unpretentious, he developed his sound behind the scenes, mixing acoustic and electronic parts, live recording and digital tweaks.
Moving to the Paris region to study sound engineering, he unknowingly embarked on a life of new experiences. One evening, he signed up for a contest by Talent House, a music competition initiated by American producer Ryan Leslie (Mary J. Blige, Rick Ross, Booba…). He was in the final three, and although he didn't win, he still came out on top.
You've got mail
Across the pond, in the US, Continental T was already living the dream as a young writer/producer with a career on the verge of taking off. At the ripe old age of 20, he knew everyone in the business and was living between Houston and Los Angeles. He had his music featured on mixtapes by Game's Black Wallstreet DJ crew and had been part of one of the biggest leaks in internet history with the Lil Wayne and Drake record "I'm Goin In."
One evening in 2010, as he was browsing through the Talent House list of finalists, E-Leven the French producer blew Continental T's mind. After exchanging mails then tracks online and spending several evenings chatting on Skype, the beginning of an artistic union was about to begin, and T was soon on a plane to Paris.
Visions
Something happened on the information highway. There was a connection and sparks flew. In the space of a single week, the duo sketched out a dozen tracks, some of which they played at their first concert, swiftly organized at Le China Club in July of 2010. That night, ME's destiny was set in stone. It was also on that night that label Atmosphérique spotted this innovative duo comprising a French composer/producer and an American writer/producer, separated by an ocean but united by a vision.
This is ME
They had obvious chemistry, especially in the studio: E-Leven composed and played, Continental T thought of beat ideas, hummed and made his mark. Together they defined with a few chords the sound of ME. That's how track "SBS" came into being, a perfect synthesis of the duo's style: a glossy production mixing organic and electronic elements, the warmth of rounded bass lines and the groove of massive beats.
One foot in rap, the other in an alien musical territory inhabited by the ghosts of soul, rock and electro: the two artists settled on a coherent yet broad identity. It consists in subtle guitar lines and unabashed piano parts, The Neptunes' modern take on production and The Roots' digital forays; few notes and soaring arrangements.
It is a futuristic, impetuous kind of soul that changes just as you think you've grasped it, as seen in the electronic turbulence agitating the piano on "SBS", the rock drumbreaks on "The Fsaud", the tempest brewing beneath the calm surface of "My life is a Friday" and the pop warmth of "Subliminal".
Continental T's verses also reveal a more personal, more private dimension to someone who is not just a technical genius. As much at ease in forging pop anthems (Mister T) as he is in exercising his inner demons through arrogant rap styles, he never shies away from self-scrutiny, sharing the complexities of a life he doesn't dwell on nor shut out completely. He brings bitterness and silence, impudence and anger to E-leven's dark compositions, providing them with spirituality and subtle shading that make them sound like nothing ever heard before.
Behind the tranquil gaze of the two brothers lies a volcano of creativity, fueled by a desire to play around with a wide range of influences, resulting in music with high emotional impact that is greater than the sum of its parts. Apart from the record, the gigs and the friendship that has developed from this chance encounter, ME also tells the story of a genre that emerged in the streets of New York, digested 30 years later by two artists on either side of the Atlantic. Something has lived on, and that something is ME.
For interviews and press information, contact dove@tygereye.net