Serius Jones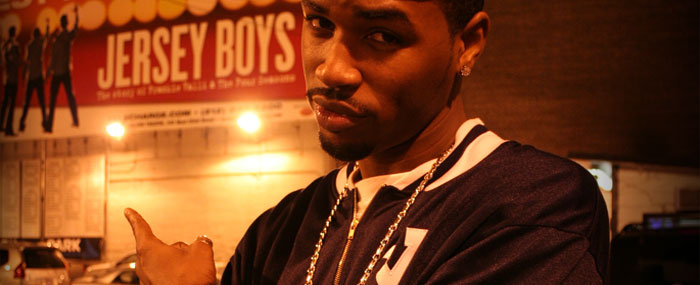 Website
Audio
Press: Interviews, Articles, & Reviews
Known for his magnetic personality, witty realism, incredible wordplay and distinctive voice, Serius Jones has been planting his seed in the music industry. In December 2012, the freestyle kingpin will unveil his latest original work with Legendary.
Serius Jones' repertoire includes obliterating unsuspecting victims in lyrical battles and cultivating ground-breaking music. After 12 consecutive victories, Jones captured The Fight Klub's AllHipHop.com 2005 Battle Championship and cash purse by defeating the reigning Fight Klub champ. It was a wake up call to the new generation of emcees, and to the music industry as a whole.
Jones' 2006 street album King Me garnered accolades from every corner of the industry, and he was well on his way to the top. After signing to Disturbing Tha Peace/Def Jam in late 2006, Serius recorded several songs before he left the label in early 2008. He is now prepping the digital release of his full-length debut album.
Serius discovered the power of his words and true talent for captivating a crowd while huddled in playful neighborhood ciphers. After entering a freestyle battle as a dare, Jones caught the eye of now multi-platinum producer Needlz, who noted the young emcee's insatiable passion, broad appeal, and unparalleled charisma. Needlz decided to support Serius' talent with production resources, however, on a cold Harlem night Jones was arrested and incarcerated on weapons charges, temporarily derailing his plans for success.
Despite his life challenges, Serius bounced back to hail as one of the most renowned battle rappers in the country. He set his sights on completing an album through his own "Life is Serius" movement, and it wasn't long before the majors took notice.
In late 2006, Grammy Award-winner and Disturbing Tha Peace founder Ludacris along with executives Chaka Zulu and Jeff Dixon enthusiastically signed Serius to DTP/Def Jam.  "I feel that Serius is capable of changing the game as we know it," said Chaka Zulu upon the signing. "He is battle-proven, but not limited to being a battle rapper. His approach to Hip Hop is refreshing and challenging, and it's no holds barred."
When DTP severed ties with Def Jam, along with other complications, Serius' debut was delayed and he was subsequently released from his contract. Even though that venture did not work out, Serius Jones' fans stood by him as he set out to release his music independently. He recently premiered the Mixcast-directed video for his single "Slow Down" on WorldStarHipHop.com, and received nearly 2.5 million plays in less than a week.
Determined to share his story with the world, Serius also wrote and directed his own epic short film, depicting the rise of the young rap star from a gifted child, recorded a soundtrack and also is releasing his own independent project Serius Bizness.. According to Serius.
"Overcoming obstacles and winning regardless of the greatest challenges life throws at you is what makes a real champion." Chuuch!
For interviews and press information, contact dove@tygereye.net