Snow Tha Product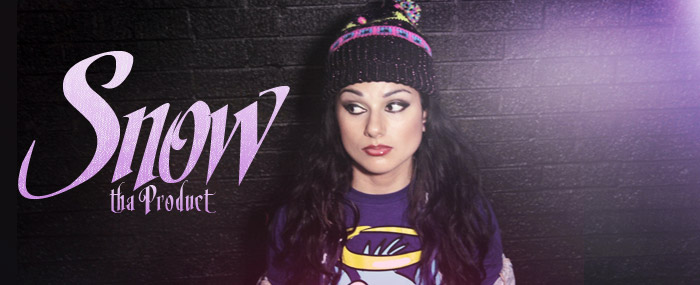 At just 24-years-old, versatile, bilingual lyricist Snow Tha Product is proving that there are no boundaries to her songwriting or performance abilities. She has established herself as an artist to watch, flexing electrifying, aggressive verbal acrobatics. Now signed to Atlantic Records, Snow celebrated the release of her Good Nights & Bad Mornings mixtape in December 2012, and is preparing the #GNBM Part 2 mixtape with exclusive remixes for release in Summer 2013.
In August 2011, Snow released her aptly-titled project Unorthodox, preceded by the Unorthodox 0.5 mixtape hosted by DJ Whoo Kid. In 2012, Snow appeared in DrJays.com Summer Sensations campaign, and performed sets at SxSW and A3C amidst a flurry of shows and media appearances across the country.
Born to illegal immigrants, Snow tha Product grew up in both North and South  California, and currently resides in Ft. Worth, Texas. Despite her remarkable talent, Snow sees herself as a 'normal' girl who wants to relate to people who hear her music.
With no formal promotion, Snow's video for "Drunk Love" hit over one million views on YouTube, and received support from the national Mun2 network's 18 & Over. Amongst all of her fierce viral videos, "Woke Wednesday" and "Holy Sh*t" caused quite a stir in 2011, adding fuel to the fire of her growing buzz.
Since her videos started making waves with fans and peers alike, Snow has received accolades from the music industry at every turn. Snow tha Product's own lyrical idols include Eminem, Missy Elliott, Lauryn Hill and the late, great Big Pun. She's become accustomed being compared to other female rappers and deals with assumptions people make about who she is, but she doesn't take offense on the norm.
"Obviously nobody likes to be compared, but on the other hand, I understand in this industry if you're doing something right, they usually compare you to somebody else doing something right. That inspires me," she says. "All in all, I'm just a normal person doing what I love to do. I don't do this for any one reason, or to say all Latinos are like me or all girls are like me. I'm not someone you can put in a box, and I want people to accept that."
For interviews and press information, contact dove@tygereye.net