T.S.A.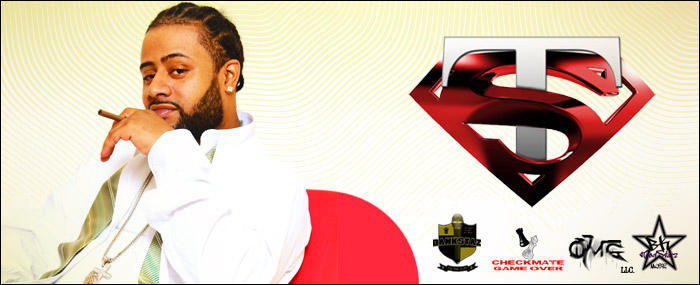 You may not understand the passion behind a crowd of people chanting "Brooook-lyyyn! Brooook-lyyyn!" at a concert if you're not from New York, but ask any native Brooklynite, and they'll tell you that the magic runs deep. When lyricist and songwriter T.S.A. (aka True Sun Ali) decided to carry the torch for his beloved borough, he knew he would have his hands full, but the gifted rapper is up for any challenge.
With nearly two decades of music under his belt, T.S.A. is ready to take his movement to new levels with his upcoming album The Candidate, slated for release this Fall via Checkmate Game Over. The album will be preceded by The Candidate Mixtape: Business & Politricks on August 7, 2012. With production from the likes of Lord Digga (Notorious BIG, Masta Ace), DBlock's Vinny Idol, and 5th Seal (Talib Kweli, Joell Ortiz) already on deck, The Candidate is shaping up to be T.S.A.'s best project yet.
True's work over several mixtapes, albums and guest features paints a picture of the dedication to his craft. From his days in the '90s with the group Maja Damage, to his debut solo album Introducing True Sun Ali in 2007, T.S.A. has celebrated many successes as an independent artist.
As a teen, T.S.A. developed his natural talent for music. Since Brooklyn was notorious for rap battles, he sharpened his lyrical skills and showmanship to compete with the best. He came to value the importance of studying his craft, and eventually embraced his songwriting abilities.
In time, True earned a healthy buzz in New York's independent artists rap circuit, garnering an "Artist to Watch" nomination at the Underground Music Awards.  In addition to performing his own music, True has worked with the likes of Rock of Helter Skelter, D.V. Alias Khryst, and special projects with producers Lord Digga and Vinny Idol.
Promotion of his hometown is a huge focus in T.S.A.'s movement, and he takes his role at "The Voice of Brooklyn" quite seriously.
"Brooklyn has a very special place in my heart, and I want the world to experience the greatness we possess," T.S.A. explains. "'The Voice of Brooklyn' means that I speak the lingo of every neighborhood in my borough. I've lived in almost every neighborhood, or I've hustled there, so my connection is very strong and visible. Many people I've encountered can only dream about coming to a place that has so much diversity and history."
As built his catalog of music over the years, True also took time to learn the business. He started the Bankstaz movement with Rock Redd, formerly of Da Representatives, and later teamed with friends Magoo and Na'il to start the Checkmate Game Over label. This has all benefitted in creating a strong platform for T.S.A.'s future releases, as well as laying a foundation to bring forth more new talent. The company will eventually move in to film and merchandising, with more plans in the works.
Meanwhile, T.S.A.'s The Candidate Mixtape: Business & Politricks is certain to kick off Summer 2012 refreshingly.
"I think the mixtape will appeal to anyone who appreciates good music," he asserts. "It will definitely get you in gear and ready for the album. I'm not really a fan of freestyles, so a majority of the music will be original, but there are a few hot beats out there that I may attack just for the love of a great formula."
As he moves toward the Fall release of The Candidate album, True is confident in where he is heading artistically and professionally.
"The Candidate title indicates that I'm the best man for the job musically," T.S.A. explains. "I want fans to get the best of me on this album, and inspire people in many ways. I want them to know that the sky is the limit, yes… but you can keep going! If you're looking for an escape or just someone to love, I hope this album will allow you to at least see your way through… to shed light on your life, eternally!"
For interviews and press information, contact dove@tygereye.net